Nouvelles du CAH et de ses projets
Vous pouvez lire sur cette page toute l'actualité des actions du CAH et de ses différents projets. Vous pouvez également vous inscrire à notre Newsletter en utilisant le formulaire d'abonnement en face.
Pour connaître les événements et actions à venir du CAH suivre ce lien : Agenda des événements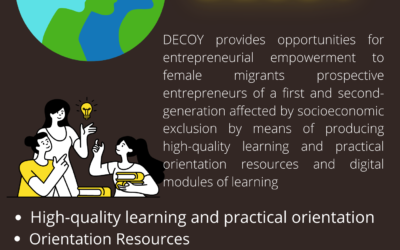 Dans le cadre du projet Erasmus+ DECOY: « Developing the Entrepreneurial Capabilities Of Young Women » coordonné par L'Islande en collaboration avec la Grèce, la France, la Turquie et l'Italie, un atelier en ligne sera animé le 14 décembre 2023 de 18h à 20h heure...
lire plus
Cercle Augustin d'Hippone / CAH